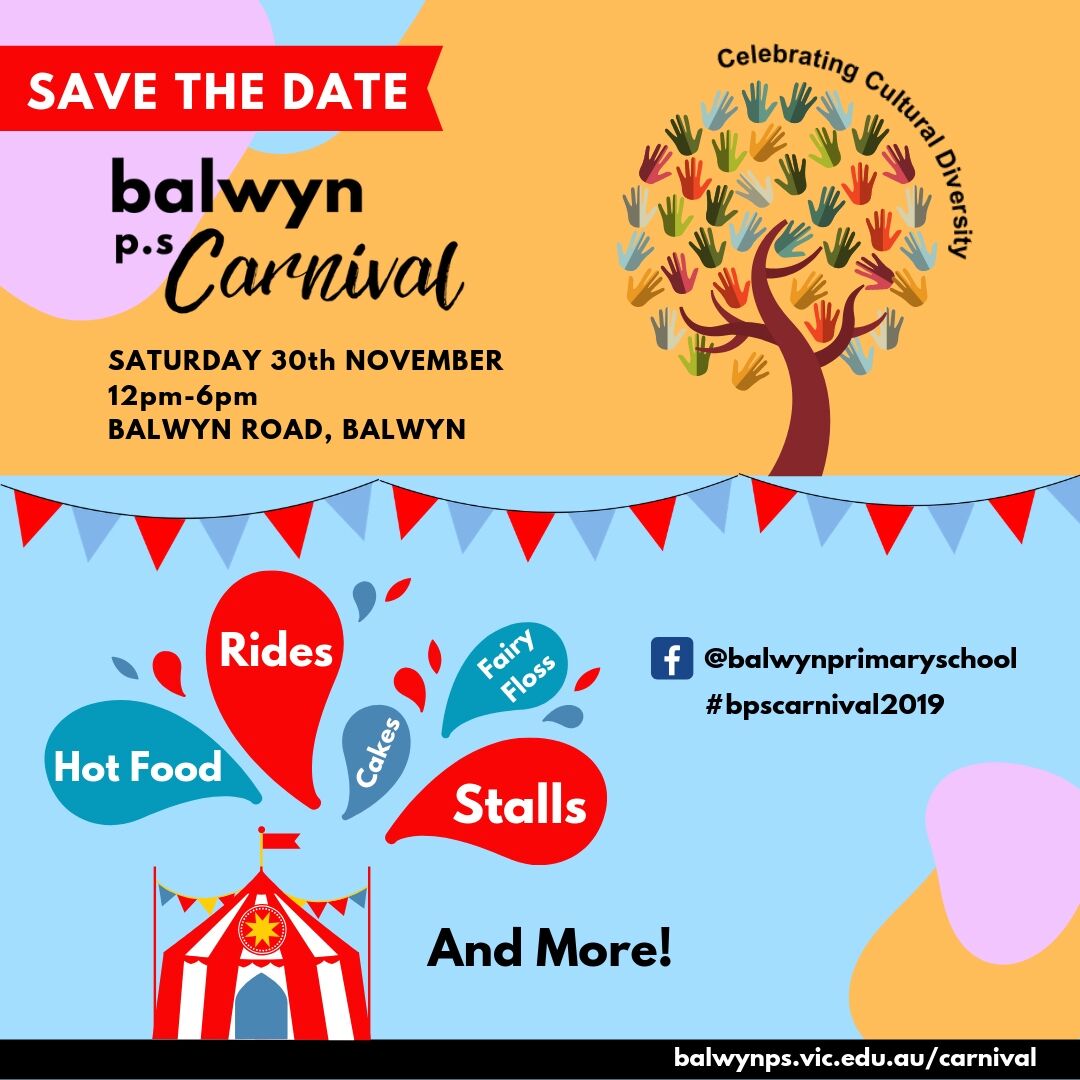 Celebrating Cultural Diversity!
This Carnival is an important event where both the school and local community come together to create a fantastic day for the whole family.
To be held on Saturday 30th November 2019, you and your family will enjoy many rides, entertainment, sample cuisines from various cultures that make up our school community, and so much more!
100% of the proceeds from the Carnival will be used for enhancement of our School grounds, facilities and learning program. This year, we are aiming to raise significant funds to put towards creating an enhanced passive and active play space at the Northern Boundary area.
We would love to hear from families and local businesses that are interested in getting involved and there are many ways to contribute, big or small, on the day of the Carnival or leading up to the event.
Please contact us Karen or Michelle on balwynpsfair@gmail.com
OPEN POSITION : FOOD LEADS
Do you have a passion for food? Want to design the Carnival "menu" (for example, fairy floss, sausage sizzle, etc) and all that it entails. We've got an exciting open position for food on the Carnival committee. This is your opportunity to make this year's carnival the tastiest ever!
Interested? Please contact Karen Wong on balwynpsfair@gmail.com
INDIVIDUAL STALL COORDINATORS NEEDED
We are looking for volunteers to help us run Carnival Stalls. We have wonderful stalls like Cultural Snack and cake stall, Lollies, Wine Pull, Slime, Craft, Can Toss, Lucky Dip and so on. You will be leading a stall with the help of the carnival committee.
Please contact either Clara or May if you are able to help on balwynpsfair@gmail.com
SILENT AUCTION ITEMS NEEDED
Our Silent Auction plays a prominent role at the Balwyn PS Carnival as it is the largest percentage fundraiser for the Carnival day. This year it will be an Online Silent Auction, so everyone in our community has a chance to bid. The BPS Carnival Silent Auction team is Rowena Findlay (3/4B), Kay Liu (3/4W), Dharani Nagarajan (3/4H and 1/2B), Lufee Wong (1/2P) and Liza Jiang (1/2G).
We need help with donations from our Balwyn PS community to ensure a fabulous, "not to be forgotten" Online Silent Auction.
Ways to help include:
● New gifts and toys e.g. Lego
● Kid's tuition and classes
● Holiday short term rental or hotel loyalty points
● Birthday parties
● BPS Carnival sponsorship
● Local grocer, butcher, restaurants, cafes and fitness clubs
If you can help us, please contact us at balwynpsfair@gmail.com.